ALS Clinical Trials
Our Mission
The mission of the UC San Diego ALS clinical research team is to evaluate scientific knowledge and translate it into tangible solutions for ALS. We hope to advance clinical research and create feasible treatments for those suffering from this neurodegenerative disease.
Learn More
To learn more about our clinical trials or to participate, call 858-246-1319 or email actprogram@ucsd.edu.
Here are some things you should know:
Participating in our ALS clinical research program is completely voluntary.
You do not need to be a patient at UC San Diego Health to participate in our clinical trials.
If you are a patient, choosing to not participate will not compromise your care at UC San Diego.
Participation is free of cost.
Clinical trials are conducted under the supervision of a UC San Diego neurologist.
When participating in clinical trials, ALS study participants receive regular medical checkups. These checkups do not replace your appointments with your regular doctor.
Enrollment in each trial is limited.
You may halt your participation at any time for any reason.
Learn more about the UC San Diego clinical research process and your rights as a research subject.
In the preclinical phase, the investigator must demonstrate that a drug is reasonably safe by fulfilling certain FDA requirements.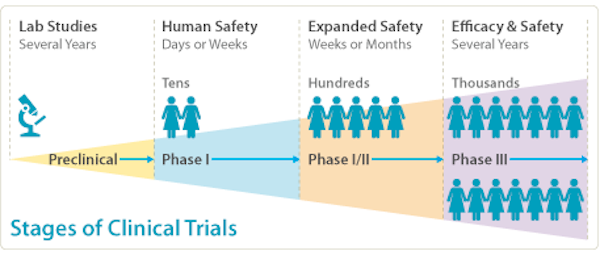 Phase I trials look mainly at the safety of a potential treatment. The sample size of the study consists of a small group that is monitored for negative side effects.
Phase II trials begin to analyze the effectiveness of the treatment and look at further safety measurements. The amount and timing of dosage are determined. In addition, the most optimal route of entry, whether it be by mouth or injection, is chosen.
Phase III trials involve much larger sample groups in order to make a meaningful evaluation of a treatment's success.
VITALITY ALS Study
Summary: The primary objective of this study is to assess the effect of tirasemtiv versus placebo on respiratory function in patients with ALS.

Length: The study lasts approximately 14 months

Eligibility: ALS diagnosis, familial or sporadic. Other criteria for eligibility will be assessed at a screening visit
CReATe Study
Summary: This study is aimed at identifying the link between phenotype (observable signs and symptoms) and genotype (your genetic information) for amyotrophic lateral sclerosis (ALS), as well as other related neurodegenerative diseases, including frontal temporal dementia (FTD), primary lateral sclerosis (PLS), hereditary spastic paraplegia (HSP), progressive muscular atrophy (PMA) and multisystem proteinopathy (MSP). It also will investigate potential biomarkers (measurable indicators) of the disease. With this information, it is hoped that therapeutic developments will progress.

Length: This is a longitudinal study that requires in-person visits for the first year. After the first year, there will be annual remote visits that can take place via phone. These remote visits will take place for as long as you are willing and physically able to complete them.

Eligibility: ALS or related-disorder diagnosis, familial or sporadic
C9ORF72 Wash U Study
Summary: The purpose of this study is to better understand a specific form of amyotrophic lateral sclerosis caused by a mutation (or abnormality) of the C9ORF72 gene. This mutation is the most common genetic cause of ALS and is present in 40% of patients with familial ALS and 5-10% of patients without a family history of ALS. We hope that the intense study of patients with the C9ORF72 mutation through behavioral assessments and bio specimen collection will help us develop treatments for this common form of ALS.

Length: This study will last approximately 4 years, with a total of 7 clinic visits.

Eligibility:

Known positive C9ORF72 ALS status upon enrollment, familial or sporadic
Caregivers can also participate
Clinical trials test the safety and benefit of a certain therapy. At UC San Diego, our clinical research team is devoted to providing more opportunities for ALS patients to engage in potential methods that counteract the effects of the disease. We manage studies that are therapeutic and examine potential biomarkers.
Meet the Team
---
Aaryn Belfer

Program Manager/Regulatory Specialist
abelfer@ucsd.edu
858-246-0247
Aaryn has extensive experience in all aspects of Phase II-IV clinical trials and possesses in-depth knowledge of clinical research methodology. She has worked with varying populations from teens with high-risk behaviors, to post-menopausal women. While she values all populations with whom she's come in contact, her work with ALS patients is a highlight. Aaryn serves as a liaison between UC San Diego and various sponsors and their partners, clinical research organizations, and the UC San Diego Human Research Protection Program. She ensures that research-related activities are performed in accordance with all regulatory policies and procedures. Her favorite part of the job remains interacting and building relationships with participants.
When not working, Aaryn enjoys spending time with her husband, daughter, and dog Ella. She is also a freelance writer, hobbyist photographer, globe trotter and practitioner of yoga. She cooks a mean chicken piccata and her oatmeal chocolate chip cookies are the stuff of office legend.
---
Ivy assists with the administering, organizing, and running various clinical trials. A non-traditional pre-med with a background in medical anthropology, Ivy graduated from Connecticut College in 2009. Since then, she worked with several organizations including the FXB Center for Health and Human Rights at the Harvard School of Public Health, and the non-profit Care for the Homeless in New York City. Ivy also spent one year doing research as a Fulbright Scholar in Italy. Most recently, Ivy was a part of the clinical research team at the Department of Plastic Surgery and Reconstruction at Johns Hopkins University and she volunteered at a community clinic in Baltimore.
A San Diego native, Ivy has lived and worked in New London, New York, Boston, Baltimore, as well as Siena and Palermo, Italy, before finding her way back to the beaches of Encinitas. Although she gave running a shot, she prefers marathons of the movie variety and loves to cook pasta with her husband and go on long walks with their dog, Scout.
---
Sahana helps oversee clinical trial projects and investigates the molecular biology associated with ALS. A 2013 graduate of the University of Michigan, she received a bachelor's degree in political science and psychology. She has worked in various non-profit organizations such as the National Coalition for the Homeless and the Women's Law Project. From 2013-2014, she worked as teacher in rural China under the program WorldTeach. Due to her deep passion to work with vulnerable populations, she has chosen to embark on the path to become a physician. She most recently completed a premedical post-baccalaureate program at Bryn Mawr College, while also volunteering at a harm reduction center for drug users.

A travel enthusiast, Sahana has visited 18 different countries and hopes to expand that list. She is also a hip hop dancer and yoga instructor. Her love for the ocean brought her to the beautiful region of San Diego.