How to Apply
Eligibility
Eligible applicants must complete an approved program of medical training and receive an MD or equivalent degree before starting their child neurology residency training. 
When to Apply
Applicants can apply for the program during the fall of their final year of medical school training to start residency training in July. 
What to Expect
We select two residents each year for the child neurology residency program through the National Resident Matching Program (NRMP). We receive a high volume of completed applications from competitive applicants across the country. We select approximately 30 applicants to interview with interviews generally starting at the end of October or early November. Our program hosts a one-day interview during which the applicant will meet with representatives from both the general pediatrics and child neurology programs including the child neurology division chief, the residency program directors of both the child and adult neurology residency training programs, the child neurology and general pediatrics chiefs, and several other child neurology faculty members. There will also be time to attend a grand rounds lecture and interact with the current child neurology and pediatric residents.
Applicants are ranked based on many factors:
Performance on neurology, pediatrics, and other clinical rotations
Letters of recommendation
General academic performance
Personal qualities and achievements.
Performance on the USMLE
Research experience and other accomplishments are beneficial but not required.
Application Process
You must apply through the Electronic Residency Application Service. You will be required to submit a completed ERAS application form, which will include:
A dean's letter (MSPE)
A medical school transcript
USMLE Step 1 and Step 2 scores
At least 3 letters of recommendation (preferably at least 1 from a neurologist)
A personal statement
A curriculum vitae
We thank you for your interest in our program and we look forward to receiving your application.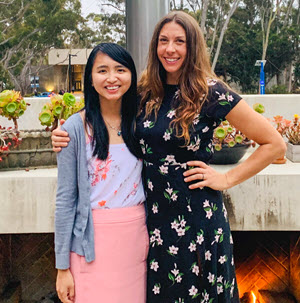 Dear prospective applicants,

Congratulations on choosing the exciting field of Child Neurology! We hope that you consider joining our wonderful family here at UC San Diego and Rady Children's Hospital. We are the only free-standing children's hospital in San Diego county, so we see patients from all socioeconomic backgrounds including underserved and refugee populations.

Our residents see bread and butter cases, as well as the rarest of the rare — and our faculty is diverse, approachable, and all love to teach! We stay connected and support each other throughout all 5 years and are close to both our pediatrics and adult neurology colleagues. And San Diego itself is a beautiful city with sunshine and beach-friendly weather all year round with amazing cuisine and recreational activities inclusive to all.

We look forward to meeting you virtually soon!

Linda Nguyen & Marie Sweat
2021-2022 Chief Residents