Donating to the UC San Diego Autism Center of Excellence
Donate to UC San Diego
Autism Center of Excellence (ACE)
Support Our Work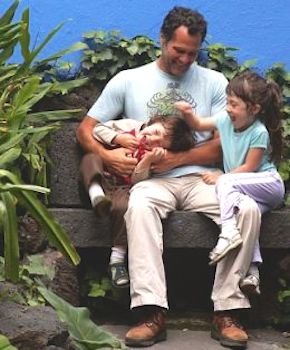 Letter from Dr. Eric Courchesne
When autism was first identified in 1943, the prevalence was estimated at 1 in 2,000 children. Today, 1 in 59 children are affected with autism or a related disorder, making it the fastest-growing developmental disability.

The reported autism rate in California has soared by more than 1,300 percent in the past 25 years.

The increase may be due to earlier diagnosis and better awareness of the disorder, but the cause of the disease itself remains a puzzle.

Advances in technology, such as neuroimaging, help us unravel the mystery behind the disorder, which affects so many individuals with great impact on families and communities.

The Autism Center of Excellence (ACE) is leading the way to illuminate autism's causes and determine effective early interventions. We are the first to study the biology of autism in infancy. Early discovery and intervention can significantly enhance positive outcomes for toddlers with autism, and our work opens up a new field of study that we hope will lead to new therapies.

We work closely with pediatricians and families to monitor babies at risk for autism. We are all learning together. But our success relies on funding from grants and philanthropy. Your support can help us continue to identify and treat autism at the early stage of life, when the possibilities for improvement are most promising.

— Eric Courchesne, Ph.D., Co-Director

Parent Testimonials
"When I hear the name Dr. Eric Courchesne my ears perk up and I get goose bumps. When I think about the UCSD Autism Center of Excellence and the wonderful staff and work they do there, I hold my breath for a few seconds and time stands still. You see, my family came across information about his work many years ago. Having one child on the ASD spectrum and another diagnosed as possibly on the spectrum my husband and I were very intrigued by his study. We signed up both kids and began their assessments but what turned out to be most important to us was the MRI scans. The work they do there for Autism is fantastic but the scan that very possibly saved my son's life would be a turning point for my family. While doing their routine brain scan to look at the brain's activity under certain circumstances, they made an alarming discovery. Luckily for us, they not only do their own research but they have a team of other people that check their work and look at the MRIs. A brain tumor was found at my son's cerebellum and just like that ASD was the least of our fears. Within two weeks we had brain surgery scheduled and I do not want to know what might have happened had this discovery not been found at that time before it grew any bigger or grew into other parts of his brain that could have caused permanent damage. My son is happy and healthy. We think about our UCSD team often and feel so lucky that we just so happened to be a part of such a critical study. Please do what you can to help this very important work that touches so many lives, searches for answers, and works on more effective treatment for Autism." — Jennifer K.
"As Dr. Carter shared the insights from my son's final ACE assessment, I began to cry. Joy, relief, gratitude- emotion overcame me as we discussed the culmination of K's progress since coming to ACE two short years ago. This stellar team listened to us and validated our concerns when the pediatrician told us to "wait and see". With compassion, dedication, and pioneering science, ACE instilled hope and connected us with resources to invest in our child's development. Now, at age three, K is laughing, smiling, making eye contact, and making friendships. Each day with this bright boy is a testament to what a child at risk for autism can achieve through early intervention, and what ACE is achieving for so many children like mine." — Stephanie K.
"We are thankful for the ACE Center. They were able to help us find answers to questions that we were asking and to give us the much needed diagnosis. Because the study included an MRI, we also learned about a brain cyst our son has. With that knowledge, we were able to find the treatments and therapies we needed, which made all the difference in our family's life." — Candace S.