Telemedicine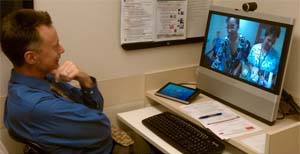 Desert AIDS Project (DAP)
UC San Diego's HIV Neurology Clinic has teamed up with the Desert AIDS Project (DAP) to offer telemedicine consultations. The DAP provides medical care and comprehensive support services to people living with HIV/AIDS in the desert community in portions of San Bernardino, Riverside, and Imperial counties.
The increased lifespan of patients with HIV and the complexity of therapy regimens and their side effects increases the need for neurology and other specialty consultations that the DAP clinic can't provide. Most of these patients are uninsured and have limited access to health care.
Through UC San Diego's Southern California Telemedicine Learning Center, a physician learns about the patient's case history and condition from a clinician at the remote site. The physician interviews the patient and, based on any previous exams and diagnostic tests, makes a diagnosis and plan for more evaluation and treatment.