Shiley-Marcos ADRC Quality of Life (QOL) Programs
The Shiley-Marcos ADRC team recognizes that coping with the changes associated with Alzheimer's disease and related dementias is an ongoing process that impacts the lives of the diagnosed inpiduals, their family members, and their relationships in the community. Adequate education about the disease process and sufficient knowledge of the multifaceted resources available to individuals and their family members is paramount to successful coping.
Activity Information
We offer the community an opportunity to be involved in a variety of QOL programs organized through our research center and partnering agencies. All programs are free-of-charge.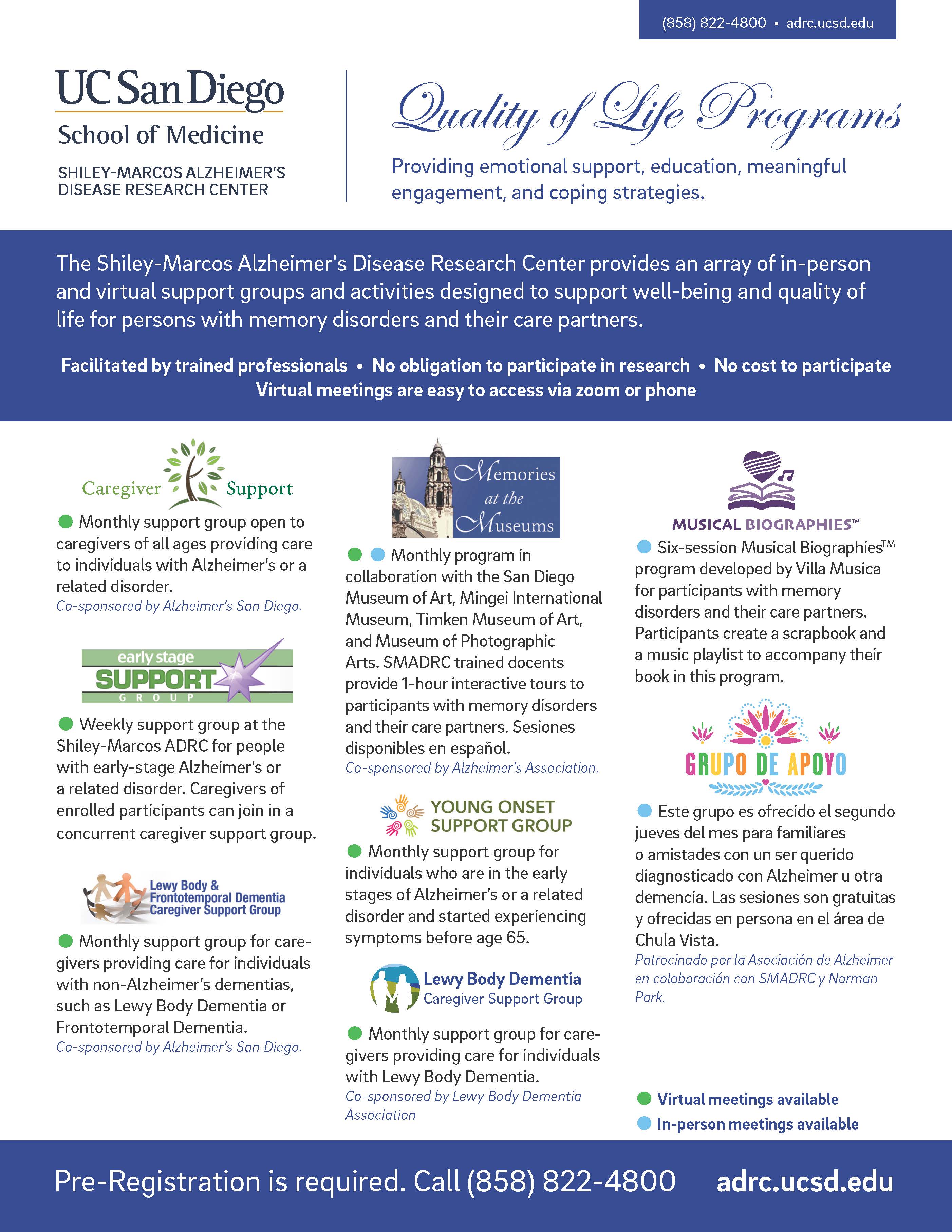 QOL flyer (PDF) summarizing all of the currently available QOL programs.
Dates & Times 
Alert
Due to COVID-19, most of our support groups and museum programs are currently offered via Zoom and can be accessed by computer or phone.
Please see the program information below for days and times. For more information, contact Tracey Truscott, LCSW.
Available Quality of Life Programs
About the Program 
 In this 6-session multisensorial workshop, participants and their care-partners will create an individualized music playlist, recount the memories it inspires, and create a memory book. This program is offered through a partnership between Villa Musica and the Shiley-Marcos Alzheimer's Disease Research Center. 
To register at no cost call: 858-822-4800, email: ttruscott@ucsd.edu or
 The 2023 offerings for Musical Biographies are now available!  Register now!
Spring session: April 13, 20, 27 & May 4, 11, 18 (PDF)
Fall session: October 5, 12, 19, 26 & November 2, 9 (PDF)
Musical Biographies was featured in the Union Tribune. Click here to read the article.
Watch a video about the program to learn more.