Our Team
UC San Diego Director of Neuroimmunology Research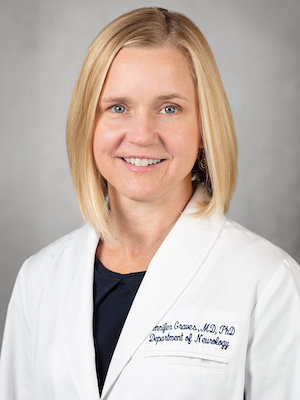 Jennifer Graves, M.D., Ph.D., MAS
Dr. Jennifer Graves is a neurologist with fellowship training in multiple sclerosis and neuro-ophthalmology. She earned a PhD in Molecular Biophysics from the University of Texas Southwestern and Master's Degree in Clinical Research Methods and Biostatistics from the University of California San Francisco. Prior to joining faculty at UC San Diego, she was as Assistant Professor in Neurology and Ophthalmology at UCSF and Co-Director of the UCSF Pediatric MS Center. She has served as a Director for an international course of clinical research design and has mentored undergraduate and medical students, residents and fellows. She has received grants from the National Multiple Sclerosis Society, NIH, and Race to Erase MS and has served as investigator for several industry and investigator-initiated trials.
Her most recent work has focused on the influence of biological aging on multiple sclerosis phenotype and leveraging biosensor technology from the computer control industry to better assess MS progression. She has also made contributions to the field of MS risk factor research, studying the role of genes and the environment on pediatric-onset disease. Through studies of puberty and menopause, she has described the influence of these reproductive transitions on disease course in girls and women. As a neuro-ophthalmologist she has studied both afferent and efferent outcome measures in adult and pediatric MS. Lastly, she has reported on important biological effects of disease modifying therapies including rebound effects following withdrawal of fingolimod and non-B cell effects of rituximab.
Multiple Sclerosis Clinical Fellow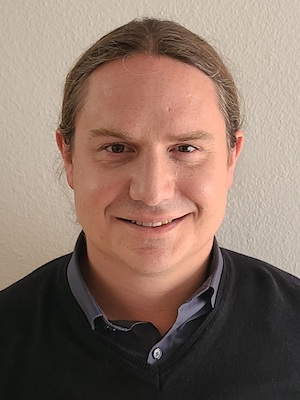 Torge Rempe, M.D.
Dr. Torge Rempe, went to medical school at the Christian-Albrechts-University of Kiel in Germany with one year at the University of Murcia in Spain with the LLP/Erasmus – grant. Afterwards, he began his German postgraduate neurologic training at the University Hospital of Kiel. During his training in Germany, he received the Sponsorship Award for Basic Pain Research 2014 of the German Association for the Study of Pain and the German doctorate degree with "magna cum laude". After his preliminary year at SUNY Downstate Medical Center, Dr. Rempe completed his US neurology residency at the University of Florida. During his residency, he received the Program Director's Award of Academic Excellence in three consecutive years and the Kenneth M. Heilman Award for Excellence in Research.
In July 2020, he started his clinical neuroimmunology fellowship at UCSD with the National Multiple Sclerosis Society's clinical care fellowship grant. In his free time, he likes to travel and to play music (cello, guitar, bass and more recently a hammered dulcimer).
Clinical Research Coordinator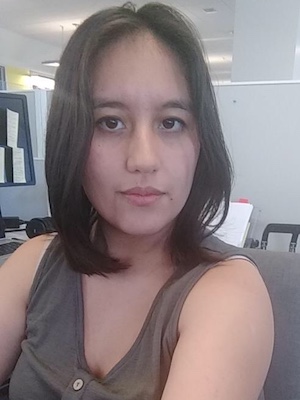 Miryam Palomino, B.S.
Miryam moved to California desert from Peru as child, and attended the University of California, San Diego for her undergraduate degree. She received a Bachelor of Science in Cognitive Science with a specialization in Neuroscience, as well as a minor in Music.
She has worked in numerous research laboratories both as an undergraduate and as a staff researcher, investigating numerous topics ranging from meditation, attachment, creativity, cognitive development research in addition to research using transcranial magnetic stimulation. Miryam is passionate about both music and science, and her favorite hobbies include songwriting, concerts, and playing Legend of Zelda: Breath of the Wild.
Senior Research Associate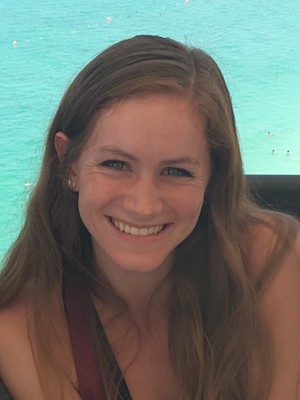 Annalise Miner, B.S.
Annalise was born in Oregon and grew up internationally. She attended the UC San Diego as her undergraduate institution, earning a Bachelor of Science in Cognitive Science spec. Neuroscience, and a minor in Biology.
She has worked in various research laboratories since coming to San Diego, investigating visual long-term memory, perception, post-traumatic stress disorder, as well as creativity in children with autism. Annalise hopes to pursue a Neurosciences Ph.D. in the future. She enjoys traveling, running, rock climbing and spending time at the beach.
Current Trainees
Neda Dastgheyb, B.A.
Neda is a medical student at UCSD. She received her bachelor's degree in Molecular and Cell Biology from UC Berkeley. Afterwards, she performed research on NK cell immunotherapy for cancer at MD Anderson Cancer Center in Houston, TX.
Her current research focuses on advanced oculomotor assessments in patients with multiple sclerosis using novel eye tracking technology. In her spare time, Neda enjoys traveling, photography, hiking, and going to the beach.
Dr. Kristen Krysko
Dr. Kristen Krysko is a Multiple Sclerosis Clinical Research Fellow at UCSF since July 2017, after completing medical school and residency in Neurology at the University of Toronto, Canada. She received the National MS Society Sylvia Lawry physician training fellowship, which funds her 3 year fellowship which includes patient care, clinical trials training and clinical research. She recently completed a Masters Degree in Clinical Research at UCSF.
She has a strong interest in clinical research related to multiple sclerosis, and her research mentors at UCSF include Dr. Waubant and Dr. Graves. Her specific research interests include studying disease-modifying therapies for MS, and she published a study of disease-modifying therapy use in children in Neurology in 2018. She is also studying the effect of biological aging on MS progression under the mentorship of Dr. Graves, and a study on this topic will be published in Annals of Neurology in 2019. She also has clinical and research interests in the impact of pregnancy on those with MS and MS management during pregnancy, and is working on projects related to benefits of breastfeeding in multiple sclerosis.