Camila Marques de Freria, Ph.D.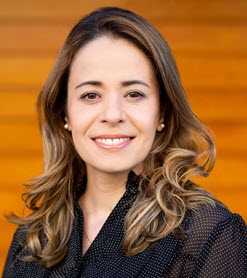 Biography
Grants & Awards
Publications
Biography

Dr. Camila Marques de Freria earned her Ph.D. in Neuroscience at Medical Science School-FCM, University of Campinas-UNICAMP, Brazil followed by her post-doctoral training at the Ohio State University where she worked with modulation of inflammatory response after spinal cord injury. Her study identified novel strategies for the treatment of ischemic spinal cord injury. Dr. Freria further received her Physiotherapy degree with a specialty in Neuropediatric. She is currently a member of the Center for Neural Repair under the guidance of Dr. Mark Tuszynski at the University of California San Diego where her work focuses on identify transcriptional mechanisms underlying potential benefits of stem cells combined with rehabilitation to improve functional recovery after spinal cord injury.
Grants & Awards

07/01/2021-06/30/2023 Individual Grant- Wings for Life Spinal Cord Research foundation USD 142,000

2017: Travel award winner to 17th International Symposium on Neural Regeneration-ISRN November 27th to December 1st, 2017 at the Asilomar Conference Grounds in Pacific Grove, CA.

2015: Winner of a stipend offered by the IBRO- Pan-European Regional Committee (IBRO-PERC) 12th European Meeting on Glial Cells in Health and Disease (July 15-18, 2015 Bilbao-Spain)

2011 Received Honor to Merit for the study: "Absence of toll-like receptor 2 expression influences the initial steps of peripheral nerve regeneration after axotomy" at the 26th Annual Meeting of the Federation of Societies of Experimental Biology- FeSBE, held in the South American Convention Center in City of Rio de Janeiro- RJ, August 24th-27th, 2011.
Publications

2020 | journal-article
Freria CM, Brennan FB, Sweet DR, Guan Z, Hall JC, Kigerl KA, Nemeth DP, Liu X, Lacroix S, Quan N, Popovich PG. Serial systemic injections of endotoxin (LPS) elicit neuroprotective spinal cord microglia through IL-1- dependent cross-talk with endothelial cells. J Neurosci. 2020. DOI:https://doi.org/10.1523/JNEUROSCI.0131-20.2020.  PMID: 33051350

2017 | journal-article
Freria CM, Hall JC, Wei P, Guan Z, McTigue DM, Popovich PG. Deletion of the Fractalkine Receptor, CX3CR1, Improves Endogenous Repair, Axon Sprouting, and Synaptogenesis after Spinal Cord Injury in Mice. J Neurosci. 2017; 37(13): 3568-3587.
DOI: 10.1523/jneurosci.2841-16.2017
PMID: 28264978

2016 | journal-article
Freria CM, Bernardes D, Almeida GL, Simões GF, Barbosa GO, Oliveira AL. Impairment of toll-like receptors 2 and 4 leads to compensatory mechanisms after sciatic nerve axotomy. J Neuroinflammation. 2016;13(1):118.
DOI: 10.1186/s12974-016-0579-6
PMID: 27222120

2014 | Chapter - book
Martinez, Diego Stéfani T; Franchi, Leonardo P; Freria, Camila M; Ferreira, Odair P; Filho, Antonio G. Souza; Alves, Oswaldo L; Takahashi, Catarina S. Carbon Nanotubes: From Synthesis to Genotoxicity. Nanomedicine and Nanotoxicology. 1. ed. Springer New York, 2014. 27p.
DOI: 10.1007/978-1-4614-8993-1_6

2013 | Chapter - book
Freria, C. M, Victório, Sheila Cristina. Glial Cells on Microenvironment of Motoneurons: An Important Insight for Understanding the Mechanisms that Limit Neuronal Damage. In: Emerson D. Metzger; Keith G. Halsey. (Org.). EXCITOTOXICITY FUNDAMENTAL CONCEPTS, PATHOPHYSIOLOGY AND TREATMENT STRATEGIES. 1ed.New York: Nova Science Publishers, Inc., 2013, v. 1, p. 63-84. in press. 33051350 ISBN:978-62948-485-3.

2012 | journal-article
De Freria CM, Barbizan R, De Oliveira AL. Granulocyte colony stimulating factor neuroprotective effects on spinal motoneurons after ventral root avulsion. Synapse. 2012;66(2):128-41.
DOI: 10.1002/syn.20993
PMID: 21953623

2012 | journal-article
Freria CM, Velloso LA, Oliveira AL. Opposing effects of Toll-like receptors 2 and 4 on synaptic stability in the spinal cord after peripheral nerve injury. J.Neuroinflammation. 2012; 23;9:240. DOI: 10.1186/1742-2094-9-240. PMID: 23092428

2011 | journal-article
Scorisa JM, Freria CM, Victorio SC, Barbizan R, Zanon RG, Oliveira AL. Glatiramer acetate treatment increases stability of spinal synapses and down regulates MHC I during the course of EAE. Int J Biol Sci.2011;7(8):1188-202. DOI:10.7150/ijbs.7.1188. PMID: 22043176

2010 | journal-article
Freria CM, Zanon RG, Santos LM, Oliveira AL. Major histocompatibility complex class I expression and glial reaction influence spinal motoneuron synaptic plasticity during the course of experimental autoimmune encephalomyelitis. J Comp Neurol. 2010; 518(7):990-1007. DOI: 10.1002/cne.22259. PMID: 20127802

2010 | Review- Article

Zanon RG, Emirandetti A, Simões GF, Freria CM, Victório SC, Cartarozzi LP, Barbizan R, Oliveira ALR. Expression of class I major histocompatibility complex (MHC I) in the central nervous system: role in synaptic plasticity and regeneration. Coluna/Columna. 2010; 9 (2), 193-198. DOI.org/10.1590/S1808-18512010000200017.

2009 | journal-article
Marques KB, Scorisa JM, Zanon R, Freria CM, Santos LM, Damasceno BP, Oliveira AL. The immunomodulator glatiramer acetate influences spinal motoneuron plasticity during the course of multiple sclerosis in an animal model. Braz J Med Biol Res. 2009; 42(2):179-88. DOI: 10.1590/s0100-879x2009000200006. PMID: 19274346

2009 | journal-article
Scorisa JM, Freria CM, Victorio SC, Barbizan R, Zanon RG, de Oliveira AL. Glatiramer acetate positively influences spinal motoneuron survival and synaptic plasticity after ventral root avulsion. Braz J Med Biol Res. 2009; 42(2):179-88. DOI: 10.1016/j.neulet.2008.12.017. PMID: 19103252

2007 | journal-article
Russo TL, Peviani SM, Freria CM, Gigo-Benato D, Geuna S, Salvini TF. Electrical stimulation based on chronaxie reduces atrogin-1 and myoD gene expressions in denervated rat muscle. Muscle Nerve. 2007; 35(1):87- 97. DOI: 10.1002/mus.20668. PMID: 17034040