Michael Castle, Ph.D.
Assistant Professor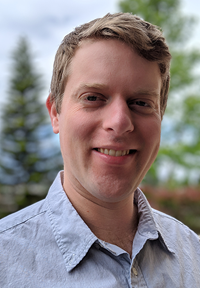 Current Research
Research Articles
Current Research

I am an expert in gene therapy specializing in treatment of neurodegenerative disease. Current projects include: 1) intrathecal growth factor gene therapy for Alzheimer's disease, 2) novel vector components that target intravenous gene therapies to disease-affected cells, 3) translational methods for controlling the strength and duration of gene expression in vivo, and 4) new synthetic gene therapies for neurodegenerative disease.

 
Research Articles
Citations
1. Castle MJ, Baltanás FC, Kovacs I, Nagahara AH, Barba D & Tuszynski MH (2020). Postmortem Analysis in a Clinical Trial of AAV2-NGF Gene Therapy for Alzheimer's Disease Identifies a Need for Improved Vector Delivery. Hum Gene Ther 31 (7-8): 415-22. https://doi.org/10.1089/hum.2019.367 PMID: 32126838.  
2.  Castle MJ, Cheng Y, Asokan A & Tuszynski MH (2018). Physical Positioning Markedly Enhances Brain Transduction After Intrathecal AAV9 Infusion. Sci Adv 4 (11): eaau9859. https://doi.org/10.1126/sciadv.aau9859 PMID: 30443600.
3.  Castle MJ, Gershenson ZT, Giles AR, Holzbaur EL & Wolfe JH (2014). AAV Serotypes 1, 8, and 9 Share Conserved Mechanisms for Anterograde and Retrograde Axonal Transport. Hum Gene Ther 25 (8): 705-29. https://doi.org/10.1089/hum.2013.189 PMID: 24694006.
4.  Castle MJ, Perlson E, Holzbaur EL & Wolfe JH (2014). Long-distance Axonal Transport of AAV9 is Driven by Dynein and Kinesin-2 and is Trafficked in a Highly Motile Rab7-positive Compartment. Mol Ther 22 (3): 554-66. https://doi.org/10.1038/mt.2013.237 PMID: 24100640.
5.  Vandenberghe LH, Bell P, Maguire AM, Cearley CN, Xiao R, Calcedo R, Wang L, Castle MJ, Maguire A, Grant R, Wolfe JH, Wilson JM & Bennett J (2011). Dosage thresholds for AAV2 and AAV8 photoreceptor gene therapy in monkey. Sci Transl Med 3 (88): 88ra54. https://doi.org/101126/scitranslmed.3002103 PMID: 21697530.
Books
1. Castle MJ, editor. Adeno-Associated Virus Vectors: Design and Delivery (2019). Methods in Molecular Biology (New York, NY: Humana Press): 1950. http://doi.org/10.1007/978-1-4939-9139-6
Reviews and Book Chapters
1. Weinholtz CA & Castle MJ (2021). Intersectional Targeting of Defined Neural Circuits by AAV Vectors. J Neurosci Res 99 (4): 981-90. https://doi.org/10.1002/jnr.24774 PMID: 33341969
2. Hunter JE, Gurda BL, Yoon SY, Castle MJ & Wolfe JH (2019). In Situ Hybridization for Detection of AAV-Mediated Gene Expression. In: Adeno-Associated Virus Vectors: Design and Delivery (Castle MJ, ed). Meth Mol Biol (New York, NY: Humana Press) 1950: 107-22. https://doi.org/10.1007/978-1-4939-9139-6_6  PMID: 30783970                
2.  Castle MJ, Turunen HT, Vandenberghe LH & Wolfe JH (2016). Controlling AAV tropism in the nervous system with natural and engineered capsids. In: Gene Therapy for Neurological Disorders (Manfredsson FP, ed). Meth Mol Biol (New York, NY: Humana Press) 1382: 133-49. https://doi.org/10.1007/978-1-4939-3271-9_10 PMID: 26611584