Parkinson & Other Movement Disorders Center Research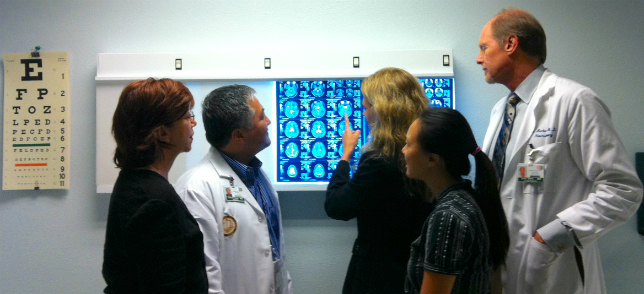 Our Goals
Our research efforts are dedicated to advancing the knowledge on movement disorders and improving the care for the affected individuals and their loved ones. Through our research, we strive to identify the most effective interventions and continue the progress toward an eventual cure for these disorders.
Our main focus is directed to:
Improve the understanding of the wide variety of motor and non-motor symptoms
Determine the causes and mechanisms leading to development of these diseases
Refine and develop symptomatic and biologic interventions
Clinical Trials
UC San Diego Health is a hub for translational medicine, which is the delivery of scientific breakthroughs to patient care through clinical trials. Clinical trials may offer participants early access to treatments that will one day re-define the standard of care. 
Explore our current research studies:
Choosing to participate in clinical research is an important personal decision. There are many educational resources available to learn more about what it means to participate in research, and it may be helpful to discuss your decision with your physician or family members. 
Excellent patient care is always available at UC San Diego Health, whether you choose to participate in a clinical trial or receive standard treatment. The decision to enter a clinical trial is always up to you.
More about clinical trials and your rights:

Brain Bank Donation Program
Did you know there is a shortage of brain tissue for research in Parkinson's disease and other movement disorders? Assessing brain tissues gives researchers the ability to provide a definite diagnosis and examine the causes and treatments.
Questions?
For more information about our center's research studies, contact our Clinical Research Manager:
Ileana Rubio
irubio@health.ucsd.edu
(858) 246-2505