Events & Updates
New Microscopy Core Resources
Zeiss Elyra 7 with Lattice SIM
Resolve structures down to 60 nm.

Observe live cell dynamics at up to 255 fps.

Accelerate image acquisition in all three dimensions.

Get the sharpest sectioning in wide-field microscopy.

Utilize a wealth of imaging techniques on one platform.
Contact us today for a free demonstration: jsantini@health.ucsd.edu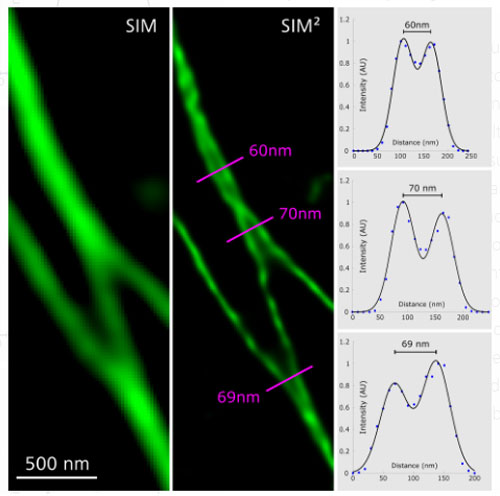 The sliding scanning system is superior in fluorescence and brightfield capabilities
Leica Center of Excellence
The UC San Diego School of Medicine Microscopy Core is now a Leica Center of Excellence! We have three Leica systems that are supported by Leica:
Leica Representative Onsite
A Leica representative can come onsite for assistance as requested
Core staff are available during business hours to answer any questions regarding all core resources and techniques
Webinars, Seminars and Demonstrations
 _________________________________________________________________________________________________
Solving complex image analysis challenges in life science research using AI
AI is enabling image analysis with better precision, higher accuracy, less bias and at speeds never dreamed possible.
Join Visiopharm, hosted by UCSD School of Medicine Microscopy Core and Jennifer Santini to
learn more about deep learning-based image analysis tools and how they are rapidly advancing scientific discovery and personalized medicine.
DECEMBER 11, 2023, 2PM PT
UCSD Center for Neural Circuits and Behavior
Large Conference Room
San Diego, La Jolla, CA 92093
Assorted snacks, coffee, water and soft drinks will be provided for attendees
Registration for Event is Required
_______________________________________________________________________________________________
Microscopy Seminar Series
UC San Diego School of Medicine Microscopy Seminar Series will be cancelled until further notice. We will reschedule seminars once concerns are lessened.
All publications generated utilizing our resources must cite our grant:
NINDS P30NS047101
If the Elyra 7 Lattice SIM Instrument was utilized, please cite our S10 grant:
S1OD030505